Siding is an excellent upgrade to a home that can offer exciting curb appeal and help your home stand out on the block. Personality can be expressed through the various options that siding provides. Perhaps you desire a bold color or corrugated metal. Or maybe your home is modern and you desire to mix and match siding to make it pop. The choices are many! Deciding on style may be the hardest decision you make when it comes to new siding. 
In Arlington, the cost will vary depending on the material chosen, the size of the home, and the condition of the existing siding. Installation for vinyl siding can range from $4 to $10 per square foot, with an average cost of around $7 per square foot. 
Contact Betterment Construction & Roofing in Arlington when it comes time to upgrade your siding. We would love to sit down with you and discuss the various options available for your home! We are the local leading roofing and exterior services contractor. We provide exceptional craftsmanship, honest workmanship, and strong reliability you can count on. Give us a call today to see how we can help you spice up the exterior of your home.
What types of siding do we provide? 
Vinyl Siding
This is the most common siding of choice for homeowners because it is durable and affordable compared to other options. It is also quite versatile and you can choose from a variety of styles, colors, and thicknesses. When properly installed and maintained, you can expect your new vinyl siding to last between 20 and 30 years.
Wood Siding
This natural and rustic siding is a beautiful option for siding. This material can be stained to be whatever color the homeowner desires. Wood does require more maintenance and needs to be treated properly to withstand the weather elements of Arlington. 
Composite Siding
This siding is made from wafers of wood pressed together and coated with resin. It is then formed into a board and treated with chemicals to deter fungi and insects. This siding comes pre-primed, so the homeowner can choose the color to paint. 
Metal Siding
Metal offers superior durability and can withstand the harshest of weather conditions. It is more costly than the other options, however, metal is hardy and difficult to damage. It offers a long lifespan making this material a wise choice. Metal is also water resistant and able to withstand fires. 
Hardie Board Siding
This is a composite board siding made of cellulose fibers, cement, and sand. It is created with an additional protective covering to keep your home secure. Hardie board is resistant to moisture, making it an excellent choice.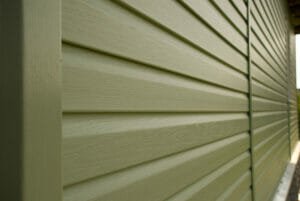 LP Smartside
The amazing technology of LP Smartside will astound the homeowner! It is a leading brand of engineered wood siding with resistance to moisture, impact, and other elements. When water is poured on this material, it beads and rolls right off! It is similar to RainX for your vehicle windshield! 
Fiber Cement Siding
Similar to a few of the others, this is made from cellulose fibers, sand, and cement. It is suitable for ever-changing climates which is ideal for the Arlington area. It can withstand thunderstorms, fierce winds, UV rays, and much more. (After having the siding you like, protect it with a new roof! Check our article now about roof replacement costs in Arlington.
There are so many options when it comes to siding material, colors, and styles. Trust the professionals at Betterment Construction and Roofing to help narrow down the choices. We are available to answer any questions or concerns you may have with all things siding. Hire the roofing professionals in Arlington you can trust to get the job done right!